Jennifer from
PJ Academy
gave me the Lemonade Stand award: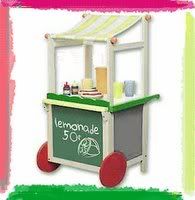 The Lemonade Stand award is for blogs showing great attitude and gratitude!!

It has rules, which are-
Here are the rules-
1. Put the logo on your blog or post.
2. Nominate at least 10 blogs which show great Attitude and/or Gratitude!
3. Link to your nominees within your post.
4. Let them know that they have received this award by commenting on their blog.
5. Share the love and link to this post and to the person from whom you received your award.
Wow,
ten
blogs!? I've just started reading blogs, lol
I say-
Stacie- The Arizona Benningtons (go over and congradulate her on her first mile walked in 2009!)
Katy
-Totally Random Katy
Simple Reflections
Katy
- Katy's Mommy Musings
"A" from
Purple Puzzle Place
Amy from
Growing Like Trees
Nicole from
The Graves' House
(go and look at baby Jack's pictures! SOOOO sweet!!)
Joanne from
Blessed...
Leslie from
Room for at least One More
Tara from
Feels like home
(she's the reason you're going to be seeing mine and Hannah's cooking adventure son Thursdays *g*)