I have been playing catchup on blog reading today and wandered over to
Bridgette's
to see what she's reviewed in the past week since I've been sick and not reading much elsewhere. She has a few things going on this week.
Ironically,
one of the giveaways
is for two bottles of
Zarbee's
cough syrup. We really need this these days! With Hannah taking multiple OTC's and her Amoxicillian, orange cream flavored ... she's been voicing her displeasure for cherry musinex (sp?). I can't see where it's worked for her, either. According to Bridgette's pediatrician, the honey in Zarbee's could make it more effective than regular cough syrups anyway. So it would be really nice to try these out. Find more information about this
at her blog
, and be sure to
enter her giveaway
!
+++++++++++++++++++++++++++++++++++++
Another giveaway is for
Toothtunes Toothbrushes
. It's a singing toothbrush, what will they come up with next??!! I like the idea because it's set with a one minute timer, has a beginning prompt, a 30 second "encouraging phrase" and an ending promot. Music plays while they're brushing their teeth. Lately with Hannah, this might be what we need to get her back on track with her tooth brushing. She's just not interested in it lately, how odd the phases they go through!
So go over and
read bridgette's review
, and
get entered to win
one of these for yourself!
+++++++++++++++++++++++++++++++++++++
At Five Minutes for Mom, there's a giveaway for
a DVD copy of the new American Girl movie: "Chrissa Stands Strong"
. I've seen this movie. Knowing it wasn't a historical figure I wanted to watch it first to see if the topics would click with Hannah, which, it does. The movie is about bullying, and overcoming being bullied. It is very well done, and is a wonderful story. Very realistic and practical for today's kids. It was on HBO earlier this month, I still have it recorded but Hannah wants the DVD. Maybe I'll win this time? You go over and
enter for yourself
as well, okay?

We're quickly becoming
American Girl
fans- Hannah's favorite so far is
Samantha
, but I
really
like
Felicity
. Aside from the fact Felicity is a gorgeous
red haired
girl ;) there was one part of the movie when she was praying so fervently she was in tears (in Jesus' name no less!), it had me bawling like a baby, too. We went to see
Kit Kitteredge
in the movies- but the topic required some explanations in the movies for Hannah to grasp what the "big deal" was (the great depression)- now she'd understand it better now that she's older (7 yrs).
Since we cannot afford the dolls (and Hannah come to terms with that very quickly without me having to explain, lol) I really want to start the book collections for Hannah. She has enjoyed the books she's seen already.
Be sure to go enter the contest
!
++++++++++++++++++++++++++++++++++++++++
5 Minutes for Mom is also doing a giveaway
for a box of alternative cold remedies
from
One Step Ahead
; including
Vapor-Eze Waterless Vaporizer
,
Baby Bed Blocks
, and (what *I* really want!!) an
EarCheck® Middle Ear Monitor
!! That's well over $100 worth of items! If you'd like to join this giveaway too, get over there before January 31st
to enter
.
+++++++++++++++++++++++++++++++++++++++++
Kidoozy
, a site I had never been to before just now, is having a giveaway for a $25 Michaels gift card. After seeing
Nicole's Valentine project
- I could use that to do one of those too! ;)
+++++++++++++++++++++++++++++++++++++++++
This is a neat one-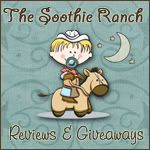 Soothie Ranch
is doing a giveway for
Halo Innovations
. They're giving away a "
Sleepsack
"- I know I have friends with little ones in their lives that read here, you have GOT to go check this out!
Jay was the master swaddler like none other when our kids were babies- and he did make sure the blankets did not touch their face at all for safety reasons. That was the only way Jackson could settle down, was to have that restriction there. As he grew out of the swaddle stage, he required heavier blankets for security, (I later learned about the idea of sewing fishing weights around the edges of kid blankets for that added weight to it, very neat idea I think!) If we have another infant in the house we'll definitely be getting one of these!
Go on over
and
enter to win the sleepsack
! :)
+++++++++++++++++++++++++++++++++++++++

Jamie's Precious Peas
is doing a giveaway for
kidscoats.com
, and there are some CUTE coats there!! She gives a number of ways to get extra entries as well, the giveaway is for one of the coats from the site.
Go to the site to enter
!! Tonight is the first time I've visited this site, but I really like her blog design- considering I'm fighting a headache right now I found it easy on the eyes for sure.