Today is the fourth anniversary of my 30th birthday. It's been a wonderful day so far. Yesterday was equally good, if not better. Yesterday morning I posted on my personal Facebook status:
"It's so nice and quiet here. Hannah's quietly on her computer and I'm doing my bible reading on mine. No TVs, only the sound of the bible audio (not playing *right* now, but ..), the ceiling fan, and the bug sounds from outside."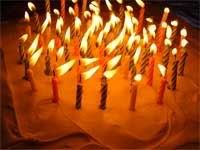 The TV was not turned on until 4pm! Hannah and I spent an hour playing on
Pixie Hollow
, and that was an easy hour, too. Today has almost been like that. It's a beautiful day. I got up and grabbed a shower first thing. I called our Pastor's devotional line and listened to that before calling my prayer partner. This month I'm paired with a "Titus 2" lady that I have not had an opportunity to really get to know beyond "hi, how are you doing?" and a few short conversations, so this is nice. We just started this week for August. Technically, the prayer calls are supposed to be five minutes for the Pastor (it's the Pastor's Prayer Team) but we talked 30 minutes this morning (which was very nice!) and prayed for
a number
of things.
I have a certain frame of mind, or mood, that I like to have set when I sit down to do my bible reading and somehow that has gotten off course today, though. The phone has rang
a lot
more than normal, but I welcomed one call, an answer to one of my
birthday wishes
! It was my cousin telling me she is coming home today! Praise the Lord! She still has a long road ahead of her as far as her recovery, so please continue to pray for her. I got a call yesterday from my BFF asking for my address. When I told her I asked if she was sending me a card and she said no she was getting me one of the magazine subscriptions I wanted :D
What a great friend not to question the fact I'm overweight but enjoy reading fitness magazines, LOL
!!
Another
call today was Dad wanting to know if 6:30 was good for my birthday dinner, tonight. I told mom the other day we would do it tomorrow because that's payday, but they're buying all our suppers tonight
Applebees
, yay! What a blessing! I just love their
Quesedilla Burger
, it's awesome!
I am so blessed. Thank you Lord!