The Story:
There's been a bag of scrapbooking supplies traveling with us through two moves. I just keep moving it from here to there, it's like m best friend now. However, I have not looked in this bag in a good three years at least! So the other day I decided, I'm never going to use this stuff- how about I give them away here on CalvaryGirl? So I went through the bag seeing what I had, and found a small envelope with just a few pictures in it. All but three were of Jackson's k4 Heritage program class performance (awwww!). One was a pic off of the balcony at our old apartment once when it snowed.
The last two were these precious pics of my babies sleeping in the cutest positions! Hannah was 1 and Jackson was 4 in these pictures. I remember finding Hannah a lot of times in that position. (The blanket she's snuggled to was my "huggie blanket" when I was little.) Jackson had fallen asleep watching TV early one night when that picture was taken. I remember laughing so hard when I walked in his room and found him in that position. He had gotten too quiet so I had went in to check on him ;o)
They say I'm "always" taking pictures of them while they're sleeping and ask why. I simply say it's because they're so peaceful that way! But obviously I'm not sneaking into the bedrooms as much as I used to cause I had to look back to my JANUARY file to find the most recent sleepy-pics!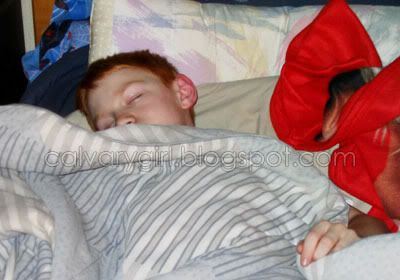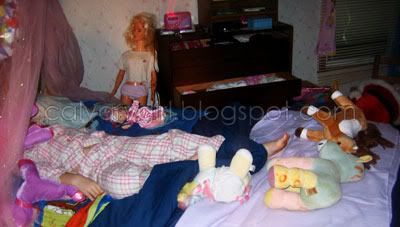 Check out more Tell me Thursday posts on Twitter @
tellmethursday
Do you have a Tell me Thursday post explaining your Wordless Wednesday pictures? PLEASE, I'd love to visit your post! Just leave me a link, ok? :) See you soon!