Mine was splendid. This year, we done NOTHING different. ~Whew!~ It was church - lunch at our favorite Mexican restaurant - home for nap - back to church. Yes we spoke with our mothers but this year it was ... peaceful. Oh, did I mention my new digital camera I got Friday night? :D YES! I was surprised with a new Sony ... something .... (let me go get the box). Okay as I go in the living room to get the box, Jay reminds me bragging is a sin. (Is it?) I asked if that included bragging on your husband, he had no comment. Just a giggle. "Men", right?
Okay, so it's a
Sony Cyber Shot DSC-H50
9.1MP 15X optical zoom, ISO3200,
Advanced Sports shooting mode
, and more! Woo-Hooo!!
Look at how good my foot looks in a picture taken by this camera-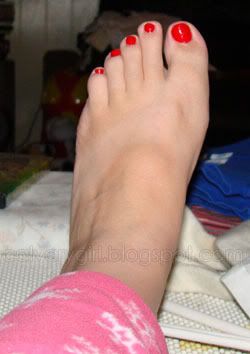 No editing at all! :p Can you tell I'm very excited? Oh, that was my new coat of polish from mine and Hannah's day trip on Friday (we went to the "nail spa").

How was your Mother's day? What did you do?