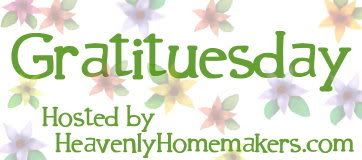 This week is really easy. This week, I am so incredibly grateful for a heavenly father that will never leave me or forsake me. This is one of His promises I cling to the most it seems. How about you?
Hebrews 13:5
Let your conversation be without covetousness; and be content with such things as ye have: for he hath said, I will never leave thee, nor forsake thee.
I'd love to read your Gratituesday post, please leave your link in the comments section!