It's Family Friday time again! Family Friday is hosted by
HomemakerBarbi.com
, thank you Danielle!
This post is likely not going to be what you initially thought of. Most blogs of mothers, when referring to parent adventures, is likely talking about their own children. Today- this blogging mother is posting about
her own mother
.
I have seen my mother HIGH
twice
this week!
My mother has had five back surgeries in the past ten years, each time on the right side of her spine. Saturday her and dad were outside planting tomato plants in planters. Mom was more supervising than actually doing the work, because it can be hard for her to bend over at times. They babysat so Jay and I could go out for lunch Saturday afternoon. When we dropped the kids off mom mentioned how her left leg had started hurting bad not long before we got there. It wasn't better when we picked them up so I told mom to call me if she felt we needed to go to the hospital. It was odd those words flew out of my mouth because my mom has never went to the emergency room.
Around 6 she called for me to come get her. They said it was her
sciatic nerve
and she had a bladder infection. Gave her
three
shots while we were there, tordol, dilaudid, and phenegryn; sent her home with three prescriptions- morphine, a steroid, and an antibiotic. She was flying high by the time we left. I got home about 1am Sunday morning. Monday afternoon Jay and I went to check on her, and she
had not even started
taking the steroids! So I get on to her, because she was complaining "what they gave" wasn't working. Well?
When you're not taking everything as directed, you're NOT going to feel better!
So she doubles her doses of the steroids to get "caught up" (sigh).
Tuesday I go over to take dad to work, and she's
broke out in hives
- allergic to the steroids. By Tuesday evening the hives were settling. Having been instructed at the ER to follow up with her regular provider, I ask if she's made an appointment. No. Wednesday I'm at my non-biological, but nonetheless "aunt's" house all day working on her computer (problems). Dad calls around 11 saying mom wanted to hit the walk in clinic, wanting to know when I can come. I say I'll be over between 1-2 pm. Finish at my aunt's, get over there, and she doesn't want to go, "wait until tomorrow". So today, after dropping my carpool kids off at school Hannah and I go pick her up. We get there around nine.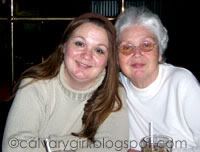 God sent an ANGEL to care for her today! She was SO thorough with mom, I've NEVER seen a Doctor care for a patient so carefully! (She even
helped me
with a problem, LOL!!) However, covering all bases, they done seven X rays and an ultrasound of mom's knee to rule out
a cyst
or blood clot. The decision, four hours later, was cortisone shots in her hip and between her fourth and fifth vertebrae, where her last surgery was. The disks were sitting lopsided on each other and she felt confident there could be nerves getting pinched there. We left with the shots- which again, made mom HIGH again, and
even more funny than Saturday
(lol) along with a change in her regular pain meds (and an increase in dosage); additional antibiotics because her white blood cells were still higher than she thought they should be- and we found out mom has a mild form of scoliosis! (My sister was just diagnosed last year.)
So I sat either waiting for mom, or with mom for the Doctor, for five hours today. That's a lot of bonding time! I believe I got a glimpse of what my future is going to be like today. Prayerfully, mom is not headed for another back surgery. As of tonight, her pain level is down from a nine to a seven, when she's sitting. She
needs
to stay off her feet, but she keeps getting up and waking around.
How do you get your mother to obey doctor's orders?
Oh, you think this concludes my parent adventures? I have more- my dad was at the doctors' today, with Hannah- waiting on mom and I- for five hours!
Click here for the daddy tales
, and it's a doozy!