Not long ago I posted about our venture
with apple slaw
. We really liked it, and enjoyed making it together. The same night I prepared a large pack of chicken so I could do garlic-onion crock pot chicken. I'm totally sold on the crock pot now, and think I'm going to try and snag mom's crock pot tomorrow when I am over there! Have you tried anything new in the crockpot latey?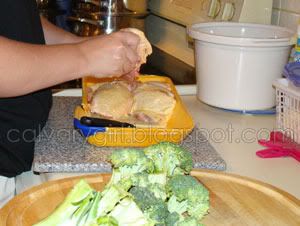 This particular night I decided to let Hannah try her hand at a knife. This is something I have not been looking forward to considering she cut her knuckle using a hand grater. She done really good with the broccoli though! Her job was to cut the "trees" off the stalk.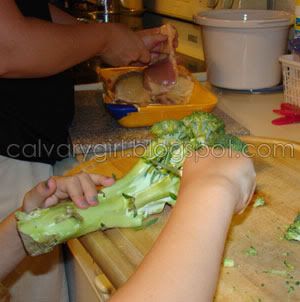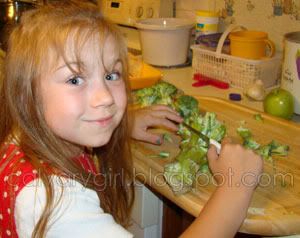 I might add here, that Jackson took these pictures with
my Mother's Day gift
, and NO EDITING was done to these before posting! Awesome, right?
Do you have a recent post about cooking with kids? Leave a comment so I can come see your post! Are you looking for information about raising a toddler foodie? Hop on over to
Grace's Kitchen
and see what other moms of toddlers are up to in the kitchen with their little ones!