It's about time for an update, isn't it?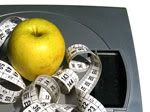 I'm doing ok. It seems if it's not one thing it's another going on (with me). If I'm not hit with a migraine I'm just overall feeling ... "uhg". I'm sure a lot of it has to do with my weight, so I am going to be focusing a lot of attention on that in coming weeks. I really do need a lot, a LOT of prayer regarding my motivation and will power as it pertains to eating habits and exercise. The problem with exercise is hip pain due to arthritis and now my right knee has been hurting significantly. I know it has much to do with the pressure my weight is putting on it. I'm still working on habits and routines, we're better than we were, but have a long way to go ;o) I did apply to Gymboree, but never heard anything back, so I'm going to assume it was not the Lord's will for us right now. Thing is, I have no peace about anything else, other than keeping children at home during the summer.
Jay's traveling a lot more with his job. We're so thankful we have not been affected job-wise because of the recession. The thing is, with his line of work, they are always hiring (not for what he does, but ...)- but you have to be physically fit to qualify. Oh~ and drug free :p
Please
do not apply for a job and waste yours and the company's time if there's a remote possibility you're not going to be able to pass a drug test! And do not think companys don't do random drug testing, because people are getting fired there for that, too! (Hence additional openings.) Very shocking news the other day was his boss as fired, which is bad because he really liked him and respected him. If you think about it please keep that situation in prayer- that his replacement won't be a royal jerk (it's true, right?) and that his new boss won't have a problem moving on to bigger and better things.
We got to take a mini vacation over Spring break in Virginia Beach and .... another town (lol) where a friend of Jay's lives. It was very nice. More pics to come, but you can see
quite a few here
.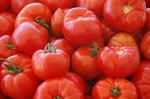 We're looking forward to getting a garden planned soon (we're late!) and having a HUGE yard sale. We have SO much stuff we can get rid of, we're going to have to have a few yard sales just to get rid of it all. There's just too much to be able to get everything out at one time.
The kids are both playing soccer, and enjoying it a lot. Last week was their first game, they've been practicing about a month now. There are only three teams in Jackson's age group, so every other week he will be playing two games back to back. He has been deemed the primary goalie for the team though he's going to have opportunities to play in every position throughout the season. As active as he is I find it funny he'd choose goalie as a preferred position ;o) Hannah's just excited to be there, which makes me glad.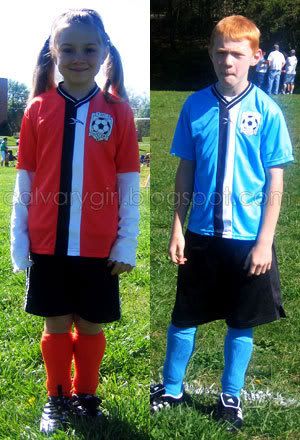 Some may have been wondering the stories behind my
Wordless Wednesday
post this week, I'm gonna share that separately. One hint- nothing to do with soccer ;o)
Hannah is still dealing with some degree of bullying (
previous post
), but what's being reported now is more regular mean-self-centered kid-type bullying. Jackson is determined he is going to make straight A's this quarter, after bringing home his best grades this year for 3rd quarter- two As and 3 Cs. That sounds good but for a child that has made all As his whole life ... not very hot- and he knows it.
I've always said that I would never pay or reward my kids for their grades, because they should get good grades anyway. Considering how rough this year has been, knowing he needs more motivation than fear of failing 4th grade (no danger at all, but apparently his teacher has brought it up enough generally speaking to the class it's been a fear of his...).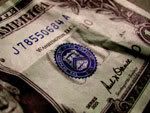 We've told him he would get $20 for every A he makes for 4th quarter. He wants a new, "good" skateboard so he has a goal in sight. So we'll see how that goes. I know it's excessive, but I wanted to do something that would not only "get" his attention, but KEEP it for ten weeks. Please continue to pray about them getting
back in their old school
for next school year, that the Lord will give Jay wisdom to make the right decisions for our family concerning the many factors that plays into their return. We'd greatly appreciate it!
Jackson and I went to the
local TEA party on tax day
4-15. We had a good time and enjoyed the experience. I was so proud to be an American that day. I had never attended a protest before, but it was so peaceful, and respectful. For us to be a group of extremists, we sure were nice! I thought it was hilarious when I saw on TV the next day some guy from Vanity Fair was saying "oh they weren't mad at all, they just seemed a little miffed more than anything" (paraphrase). Apparently, the liberal left thinks that you have to scream, holler, vandalize, interrupt speeches, and otherwise act like 5 year olds having a hissy fit for it to be a "real" valid protest. Apparently peaceful protesters just don't know what they're doing. Hmmm ... I'd be willing to disagree and call them to the floor on that!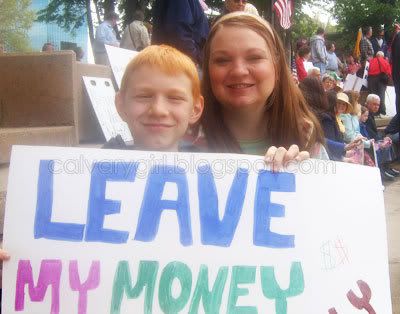 Our local reps are planning more TEA parties in the future, and definitely one on Independence Day. It meant a lot for me as a parent to take part in it, and include Jackson in it. A long time ago our old Pastor said (paraphrase) "...one day when this country has went completely downhill, my grandkids are going to ask me what I done to stop it- and I want to be able to tell them I done everything I could...". I'll never forget that, and hold the same opinion. When Jackson is an adult, after conservatism reclaims this country through conservatives getting involved and finding their voices, and using them- he will be able to say "My mom and I were there when it all started ...". Some people think it's a moot point to talk politics with their children, but for me, that's HISTORY. I know nothing of the Regan years from first hand experience, and I was the same age then Jackson is now. Hannah is too young to appreciate what's going on, but Jackson is genuinely interested. Saturday we're going to the first meeting of our local
912 project
. It's more of a meet and greet than anything I believe, but it's going to be fun. We're meeting at a local park and having potluck, etc ...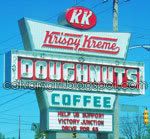 Hannah had her first field trip for the year. I know! They had one planned earlier in the year but it was cancelled. It was to this
Health Center
that was SO neat! I wish I could testify to how informational it was, but the models of internal organs freaked Hannah's little friend out, and we had to stay in the break room the WHOLE time we were there (2 1/2 hrs!). We had a nice time together though, it wasn't boring or anything. Time went by fast. Since her friend got NOTHING out of the field trip its self, I took the girls by the Krispy Kreme we passed on the way in (we were out of town). We had two of her buddies riding with us, and one her never been there before, so that was really exciting, especially since they were making the doughnuts when we got there!
Church is going great as always. I've been going out on Monday night visitation for a few weeks now, and it has been a great blessing. I've been wanting to start going for a good while now. I hope our family routine allows me to continue to do that :o) Jackson went out with some guys this week and he really enjoyed that. I learned Hannah has the option of staying at the church while I go out if needed, so that was a relief. Some weeks she's ok, others she's fickle about it. So we'll see.
Hope you all are doing well, and please link me to your own family updates by commenting! Don't forget about the giveaway!