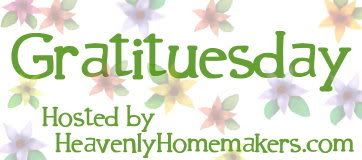 Linked at
Heavenly Homemakers


Today I'm thankful for our Pastor. Our church had the same Pastor for some 32 years. That was who led Jay and I to the Lord. It was his ministry that brought us to Christ. So when he announced a few years ago the time was coming that he would be retiring, I knew it made sense, but went through an array of emotions. It was as if, my mind understood the logic of it all, but my heart was saying he was not supposed to age, he was never to retire and he was supposed to be "Pastor" forever, LOL
Fortunately he took the choosing of his successor very seriously. In comes our current Pastor probably four years ago. The story went that he would come in and preach 2-3 services or so, so we could get a chance to hear him, then we would vote him in as Associate Pastor with the intentions of becoming head Pastor when the time come. Pastor and the deacons had already spent a good amount of time and energy praying the Lord's will over who He would have become head Pastor when the time come and they were confident this was the guy.
I remember the first time I head him preach, I was blown away. It was very good, and Jay and I both agreed on the way home that night it seemed like he was a younger version of our then-current Pastor. I remember the apprehension I felt, knowing it was the Lord's will for him to be voted in, but the reality of it all- HE would be our children's Pastor. HE would be the one who shepherded their hearts growing up, and would be their Pastor when they started their own families. I truly did not know this man "from Adam", yet the Lord was expecting me to trust him and his abilities to lead our church forward, and my children's spiritual growth forward as they grew up in our church. Cause lets remember, we were supposed to have our first Pastor forever, he was supposed to do all that ;o)
It was a year ago this past March when our current Pastor "took the reigns" of the church. He had already been working hard on staff for three years (was it three? or two?) prior. It was such a peaceful time for us all (we avg around 800 on Sunday mornings, couldn't tell you what membership is though, peace among 800 people can only come from God!). Our former Pastor still attends church with us, which was a relief. I have heard the horror stories of when new Pastors come in, church splits and such- that was the polar opposite of our experience. We've gotten to know our new Pastor and his family over the past year and we just love them all. They are a real blessing to our family. They are great friends.
Something in specific I'm thankful for though this Tuesday, is how our Pastor leads us, praying "with an umbrella". Last Wednesday night he took a few moments to challenge husbands to drop off their families at the door, and park in the second (further away) parking lot starting this Sunday. Apparently Sunday morning attendance is getting tight (I teach 3 yo's so I'm never in there), and for the sake of our new visitors, he thought ahead about the idea of them not having to walk half a mile to the front door, especially on Easter Sunday.
He also announced that the "visitor" parking spaces are going to be repainted to "Guest", so "visitors" who have been attending over two - three months, need to park in the 2nd or 3rd rows and/or join the church (LOL!!). I thought that was good- thinking so far in advance, in detail, to consider how to make our guests feel as comfortable as possible.
THAT, is praying with an umbrella! That just warmed my heart.
I think it shows a great amount of character to think along those lines.
God bless him!