This edition of
Tell Me Thursday
comes from "
The Last Game
: Wordless Wednesday". Last Saturday was the kid's last soccer game for the Spring season. Jackson's age group was having a tournament, with three teams participating. Of course these are the same three teams we've played all season. The "green" team was undefeated, with five fifth graders, and more fourth graders- translate that into a much more experienced team than the other two. Our team ("blue") had five'ish fourth graders and the rest third graders. I think the "yellow" team had more of a balance.
We played yellow first, and ended up in a kickoff. That's a lot of pressure on a kid when you're in a tournament! Bless their hearts. Jackson (goalie) done so good, I was so proud of him. We won the first to go on to the "final" round with the green team. They were so hyped. They played their little hearts out. It was a great game. They ended up in a kickoff. Their goalie has apparently played goalie in a prior season, the boy was good. JACKSON, was good! He was
so
focused, it was amazing to watch. The silence when he missed that ball- breathtaking. Side note: mom needs to learn to be shocked silently and not gasp ;)
It touched my heart to see his coach pull him aside and give him a little pep talk before the last kickoff. We were very blessed to have this couple coaching us. His coach had told the kids if they won they could pour the cooler of ice (and water) on him, after the game he told them to do it anyway they were so proud of their sportsmanship: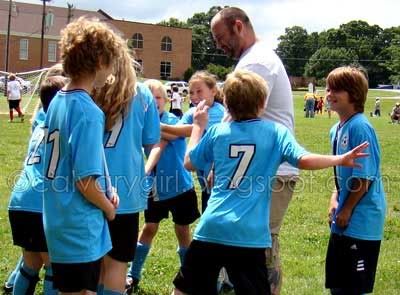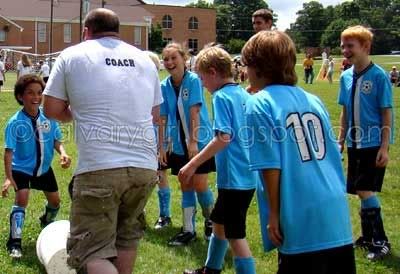 Although it was hot that day- I'm sure he was a bit chilly right after that!