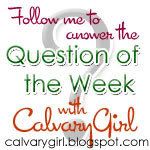 You can read the jist of the story
here
. There was actual debate this morning on the news as to whether the punishment was too severe for this woman. I heard this story last week on the radio, and the story goes, she was not only drunk, she was drinking *while she was nursing*.
Your Thoughts? Is the punishment too severe or just right?
Post your thoughts in the comments section below, or write a post on your blog, include the QOTW button, and share your link here. I'm interested in hearing what CavaryGirl readers think about this case. This is a subject very near and dear to my heart.