Hannah took the reigns for almost a whole meal one evening! Jay's brother was visiting, and it was the night we were to go to the wake for
the teen that died
last week. So really the meal was for BIL and the kids, otherwise there would be more vegetables incorporated in it, lol But it was easy for her.
We started out with her washing the red potatoes while I peeled the rough patches. As I finished peeling and slicing, she was tossing them in the pot as we waited for the water to boil. After the potatoes were in she poured the elbow pasta into it's water for the mac n cheese while I was getting the eggs out of the fridge. I put the eggs in the water hoping to avoid cracks, and she put the last one in the water to boil for the deviled eggs. We had everything going on the stove boiling. I needed to jump in the shower so she stood watch over the stove while I took a 15 minute (or less) shower (Jay was in the next room in case she needed him).
She done great! We continued with the potatoes- I drained them and she started mashing. It was cute, I hate I didn't think of snipping a picture of that. While she done that I cut up the Velveeta for the mac n cheese and got that going. We finished about the same time. The only thing we done with the potatoes was add 4 tbsp butter (around a pound of potatoes to start with) and thinned it out as needed with canned evaporated milk.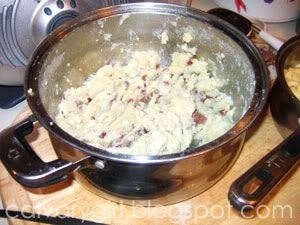 When she finished the potatoes she got started peeling the eggs- her favorite thing. While she worked on that I threw the chicken on the grill pan and went to put up my makeup. She started smashing the egg yolks and when I finished my makeup I went over the yolks one more time to make them fine. My deviled egg recipe is not an exact science, I just seem to 'know' when it's ready. That's probably Jay's favorite thing I fix, aside from potato salad, maybe. The deviled egg recipe will be something Hannah will master first.
That is a goal of mine
.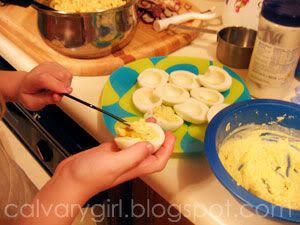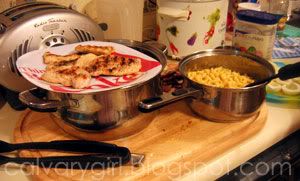 Wendy's Deviled Eggs:
mask your yolks up with a fork finely.
start out with .. for every four yolks or so, use two- three tablespoons of mayo. (Use light or fat free mayo at your own risk!)
Yolks should be a thicker consistency still after the mayo is added.
Add a tablespoon of white vinegar. Stir well.
If it is still thicker, add more mayo, alternating with half the amount of vinegar until you have the consistency you like for your yolk filling.
Don't forget to add salt and pepper to taste!
That's about the best I can do ;o) It sounds so simple, yet I always get rave reviews over my deviled eggs. One day I hope Hannah does too :O)