This is another recipe I've tried lately. I found it in the most recent issue of
Healthy Cooking Magazine
(from Taste of Home). I was very intrigued and had to try it at least once. The results were split - Jackosn LOVED it, had two helpings before school. Hannah (the picky one) said she liked regular oatmeal better. Jackson liked the "bar" type consistency, and you can add probably anything to it to mix things up.
(I'm thinking chocolate chips!)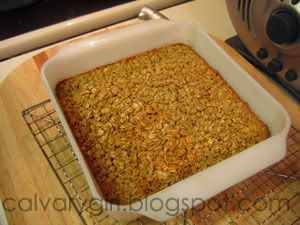 TIME: Prep: 15 min. Bake: 30 min.
Ingredients:
2 cups quick-cooking oats
1/3 cup packed brown sugar
1-1/2 teaspoons baking powder
1/2 teaspoon salt
1 cup fat-free milk
1/2 cup egg substitute
2 tablespoons canola oil
1/4 teaspoon ground cinnamon
Yogurt and fruit, optional
Directions:
In a large bowl, combine the oats, brown sugar, baking powder and salt. Combine the milk, egg substitute and oil; add to the dry ingredients and stir until blended. Let stand for 5 minutes.
Transfer to an 8-in. square baking dish coated with cooking spray. Bake, uncovered, at 350° for 30-35 minutes or until a knife inserted near the center comes out clean. Sprinkle with cinnamon. Serve with yogurt and fruit if desired. Yield: 4 servings.
+++++++++++++++++++++++++++++++++++
Review:
I really enjoyed the magazine. It was the first time I had read it. I did not realize Taste of Home had started a new magazine so that was a nice suprise to find on the maagzine rack one day while at Target. I'm planning on getting a subscription for myself. Something I really like is the nutritional stats with every recipe. They are not vague, either- there's enough information there to be able to
calculate
Weight Watcher Points
. There are also diabetic exchanges for each recipe. These visuals are important to me when finding new recipes. It definitely helps that this "good for you" recipe has the same down home feel that the regular Taste of Home magazine has, as well.