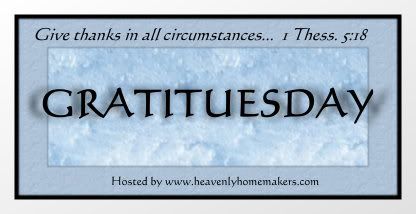 This Tuesday I am thankful for Jackson.
We were faced with the possibility of adding to our family this week under
very
unfortunate circumstances. There are two children in my family tree that have not been raised under good conditions and were put in the care of their aunt and uncle as "next of kin", so their parents would have a
smidgen
of a chance of possibly,
maybe
, one day, getting them back. I've kept in touch with said aunt to offer support for the family, and when we spoke last week she explained the turmoil having these kids with them was causing on their family.
It wasn't tough circumstances and their parents were trying their best- their parents' drug addictions was the cause. These kids have not really been raised with ... manners, expectations, standards, structure ... the list could go on. There wasn't another option, really, for these kids. They either went into foster care, into a system that is heavily strained in this state anyway- or they went to their grandmother in another state, who did not offer much of a better environment at all. Understanding the pain and frustration aunt and uncle was feeling, I agreed we'd consider taking one into our home as a form of "divide and conquer" approach.
Knowing the tremendous impact it would make on our own family, I talked to our kids about it. The kids knew who I was talking about, though they've only been around said kids twice. The first time, Jackson told me not to make him visit them again because the younger one used such horrible language :( That really shocked me on a few levels.
My son's reaction to the prospect of same said child coming to live with us ... for an indefinate amount of time?
"Well mom- why wouldn't we do it? The boy has never been to church? With us
he would get to learn about God and Jesus and maybe even get saved while he is
with us. That's sad, mom. As long as he won't break my Wii of PS2 I'll share my
room with him- he needs a big brother."

You know it's moments like that, that shows me that by golly- we
are
doing
something
right!
As to the decision, it was made for us. Last I heard they are (parents & kids) headed back to live with the grandmother out of state. Please pray for this family!