Skip to the gist of the challenge :o)
I'm up to a challenge, are you?
I almost achieved it in 2008, and in 2009, I am determined to. The challenge? To read my bible in a year.
I am inviting you to join me :O)
Are YOU up to this challenge?
How are we going to do this? you ask?
Simple.
Last year, and this year I will be using the bible in a year plan presented by
http://www.christianity.com/
. You create your own account there to login each day, and you find the "daily assignments". I'll preface by saying you can choose your own choice of translation, (of course anything you find here is going to be King James Version), and you can choose to read in the right pane from the website (it gives you an option of font size which is nice) or you can use the assigments as a guide and read from your own bible.
It looks like this-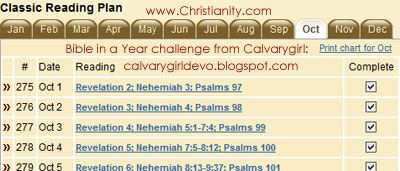 Being one that likes to work from lists and check things off, I can appreciate the little check box on the right, not that bible reading is something to merely check off of a daily list or anything! I also like that you can print off the chart to be able to keep it in your bible, too.
I went a step further this year in using the audio feature from
http://www.biblegateway.com/
as well. When you pull up a chapter, you see the audio button underneath it:
I thought of this verse when the idea hit me to do this-
Romans 10:17
"So then faith cometh by hearing, and hearing by the word of God."
It REALLY helps me when I'm going through the OT passages, especially in the genelogies! It really gives it new meaning, I think because as you're reading, you're seeing the names, and you're hearing them pronounced correctly.
You do not have to
listen as part of the challenge, but I wanted to offer that for you, because it helps me so much and best of all, it's FREE!!
You're excited about this, aren't you?
I was, too, when I spoke with my online buddies about it. But we cannot allow our adversary to dampen our passion to grow closer to the Lord by the faithful reading of His Word! Part of the challenge will be coming here each day (or as much as possible) to check in with challenge participants, for an
extra measure of accountability
. It would be nice to share what verses jumped out at us that day, wouldn't it?
You are not obligated to be here every day
to be a challenge participant, but you are making a committment to reading your bible each day, with the goal of finishing it in a year.
Remember, the goal is to read the bible in a year, not neccessarily in 2009.
If you find this challenge in
May
, you are
not
5 months behind, start where you are! Just be sure to come here and share what verses from your reading really spoke to you.
Remember, you do not "have" to use the plan I shared above, use whatever works best for you!If you blog, and make a blog post about what you read, please come here and link us to your post in the daily "BIAY" post, okay? :o)
Are you ready for the challenge? I hope so!
If you are joining the challenge, simply
comment
to this post, and
grab the graphic
on the right side of this blog (or below) to show off on your own and invite your friends to join you.
edited
1-23-09
The skinny:
Check in when you are done reading in the comments area.
Remember to let us know what passage you read (today)!
Be sure to click "subscribe by email" to continue reading the discussion, and be aware of when someone else comments (or "posts") to the "thread". You will have to click that for each post you comment in.
To receive an automatic daily summary of new posts to the blog, subscribe in the right sidebar through my feedburner subscription service.
Happy Reading!