This week, we're highlighting the night we made
tuna pasta salad
. That's a dish that is welcomed in our home, and Hannah enjoys making it. It's very easy, and frugal. I always make a big batch of it because it reheats well (for us weirdos) and you can eat it cool for lunch the next day.
We start out with half a bag of yolk free egg noodles, though probably any pasta will work- the texture of this pasta works well for our family. While you're boiling your noodles, boil some eggs- we usually boil six, because one will get eaten before it reaches the pot.
While the pasta and the eggs are boiling, chop some sweet gerkin pickles up. We like these pickles, so we usually use eight or ten of them (eating some along the way too). I leave some bigger chunks, and chop some smaller as well. When the eggs are ready, peel them, and chop them up in the manner you choose to chop. I love my egg slicer- I slice egg whites one way, then I turn them around and slice them again for a "chopped" size.
Put everything together after the pasta is drained back in the same pot- the pasta, eggs, pickles, tuna ....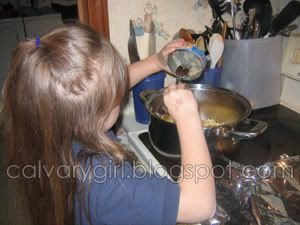 Mix everything together with mayonaise. Jay likes a lot of mayo, but in my attempt to watch calories, I use less than what he would. You add as much as or less as you want for your own family. For those watching cholesterol, I've used
Veganaise
with this too and it was equally delicious.
Finished product-
Salt and pepper individual servings to taste.