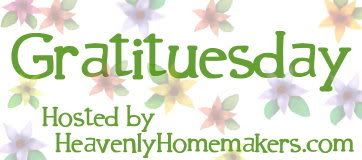 This Tuesday I'm grateful for God's faithfulness. I was having such a hard day yesterday, it was just a really weird type of day. By the afternoon I knew why, it was another "waiting for the shoe to drop" kind of feeling. But even while I was holeing up trying to gather my thoughts, the Lord sent me assurance things were going to be ok. It made me think of one of my favorite verses-
Hebrews 13:5
Let your conversation be without covetousness; and be content with such things as ye have: for he hath said, I will never leave thee, nor forsake thee.

and one of my favorite hymns-

Great is Thy faithfulness, O God my Father;
There is no shadow of turning with Thee;
Thou changest not, Thy compassions, they fail not;
As Thou hast been, Thou forever will be.

Refrain

Great is Thy faithfulness!
Great is Thy faithfulness!
Morning by morning new mercies I see.
All I have needed Thy hand hath provided;
Great is Thy faithfulness, Lord, unto me!

Summer and winter and springtime and harvest,
Sun, moon and stars in their courses above
Join with all nature in manifold witness
To Thy great faithfulness, mercy and love.

Refrain

Pardon for sin and a peace that endureth
Thine own dear presence to cheer and to guide;
Strength for today and bright hope for tomorrow,
Blessings all mine, with ten thousand beside!

I'm so grateful we can be confident in God's promises.
For more Gratituesday head over to Heavenly Homemakers
My Blogroll Buddies:
Sarah is thankful for her husband.
Christy is thankful for a weekend without the kids.