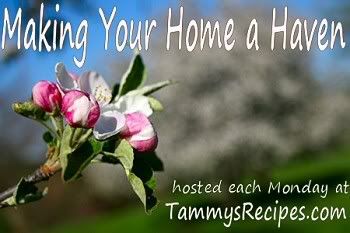 I just found this meme through Crystal at
Biblical Womanhood
, and I'm so glad she mentioned it because this is something I need right now. At this point, my home is my biggest weakness. I've started reading my
Flylady
emails again, and actually, just this morning, made the bed and swished and swiped. It amazes me how at one time, when Jackson was little, I was incredibly, Kate Gosselin-like organized and structured, and all that is out the window these days, and has been for a good while now! So this kind of accountability-slash-challenge is good for me personally. If you'd like to join me, I'd love to encourage you! Just leave me a link to your blog or if you don't blog, comment and let me know ho you're progressing.
Today she is talking about morning routines. I'm babystepping the routine thing right now but am following loosely the FLYlady morning routine though in no particular order:
Morning Routine:
-Get Dressed to Shoes including Hair/Face, Brush Teeth
- Make Bed
-Swish & Swipe
-Empty Dishwasher
-Reboot Laundry (
a Load a Day Keeps CHAOS Away
cause it's neverending
)
-Check Your Calendar
-Check Your Control Journal
Hey, I said babysteps, right? So the challenge is to have five things for a routine, so let me see how I can customize Marla's idea to make it my own-
Get up, make coffee, swish and swipe.
Go wake up the kids.
Start getting Dressed to Shoes including Hair/Face (I'm running low in foundation so face might not get done some days until I can reorder- Everyday Minerals, ya know .. Oh! check out their specials!! Note to self- order this weekend. Oh, what was I doing ... the list! ok ...)
Go wake up the kids again. Get some coffee.
Reboot laundry (if previous day's loads are folded, hung up, and put up)
Start breakfast.
Make sure the kids are getting ready and not back asleep on my bed.
Ideally the rest of the monring would be something like:
Breakfast.
Take kids to school.
Come home, do bible reading.
Work out if it's Monday, Wednesday or Friday.
Blog (reading, writing) and email.
15 minutes decluttering.
Reboot laundry.
Oh I'm tired juts thinking of it. I need all the help I can get!!
added: Talking about routines, SimpleMom has an article up with 20 tips of finding your routine- even with kids. It's simple great! I like her perspective.