It's
Amanda's
fault. She entered
Emma's sweet picture
in a contest last week, and I followed the button from her post to this new-to-me blog I
♥ Faces
. Photo editing is not really a strength of mine. I have realized in recent months that the camera can do a lot to help with the appearance of the pictures, in that, there are things you can do in the settings, etc ... then I found out MY camera had some of those! So my Canon PowerShot 95 (5MP) and I are getting to know each other ;o)
I was excited to see the entries for "
Fix it Fridays
"- that gave me hope that maybe one day you'll see pics on my blog as
gorgeous
as on Amanda's blog
(sans twins unless the Lord suprises us, lol)
So I saw today the contest for this week, which is basically a 'use no flash' challenge. Hey, here in NC we're actually in Spring only with a slight bite in the air so I was happy to get outside today with the kids to take some new pics I knew for sure would have no flash attached. I got a few good ones but Hannah gave the camera some serious love with this picture, so this is my entry for the contest: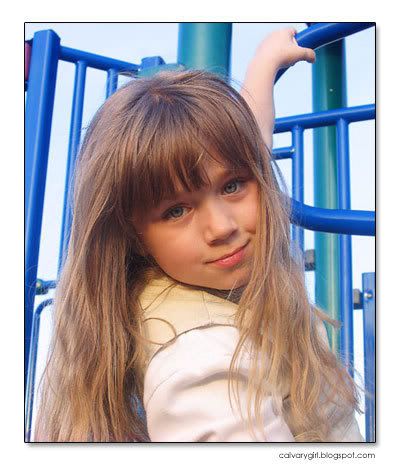 Click here
to see the other pics I done,
and to see the original
.